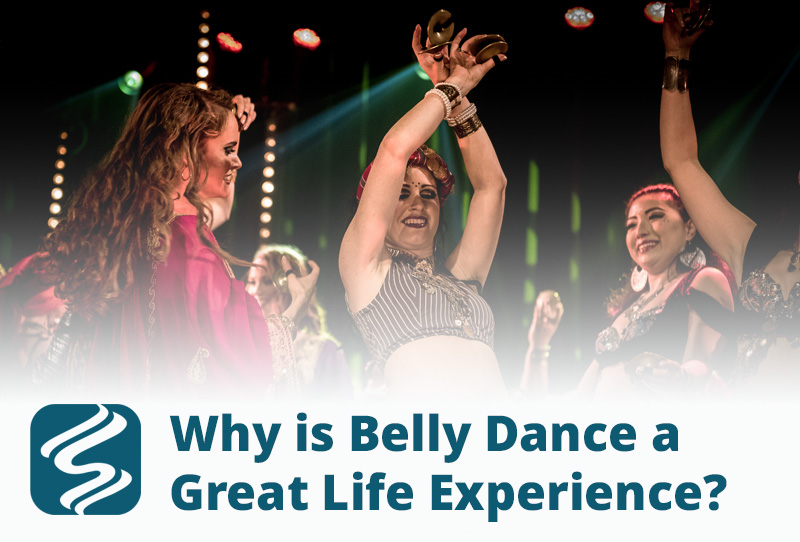 Belly dance is a beautiful and captivating art form that has been enjoyed for generations. Not only is it a great way to stay fit and healthy, but it is also an excellent way to improve self-confidence, reduce stress, and connect with others.
At the Salimpour School we have built an amazing community of dancers who attend our online classes, take our courses, go to our workshops and more! We have been teaching the Salimpour Format and Jamila Vocabulary for years, and we have seen the way it improves people's lives.
Here are some reasons why Belly Dance is an amazing life experience.
Authentic body-movement:
Belly dance is an artform, but it's also authentic body movement that just feels right, and one of the best ways to exercise while having fun. There are plenty of reasons why belly dancing is a great physical activity.
The movements involved in belly dance work all parts of the body, including the core, hips, arms, and legs, helping to increase your strength, flexibility, and balance. Because belly dance is low impact, it is easy on the joints and less likely to cause injuries than other, higher-impact forms of exercise. Additionally, belly dance can also help improve cardiovascular health by increasing your heart rate and improving your circulation.
At the Salimpour School, we know that movement is healing, and engaging in body movement by practicing a fun and artistic activity is a great way to stay healthy and take care of your body.
Self-expression:
Belly dance is a unique dance form that goes beyond just physical movement. It is a powerful tool for self-expression and can help you connect with your inner self on a deeper level. Through belly dance movements, you can express a range of emotions, from joy and happiness to sadness and pain, in a way that words cannot match. This dance form encourages dancers to embrace their individuality and celebrate their unique body shapes and sizes. As a result, belly dance can help you build self-confidence and learn to love and appreciate your body, regardless of societal beauty standards. In addition to the physical benefits, belly dance can also be a deeply spiritual experience. The fluid, flowing movements of belly dance can help you achieve a state of mindfulness and meditation, bringing a sense of inner calm and peace. By allowing your body to move and express itself freely, you can tap into your creative spirit and experience a sense of joy and fulfillment that can carry over into all aspects of your life.
Stress relief:
Belly dance is not only a fun and energizing form of exercise, but it is also an excellent way to reduce stress and anxiety. The fluid and graceful movements of belly dance can be incredibly soothing for both the mind and body. The gentle, flowing movements of belly dance have been shown to be highly effective in reducing stress and easing tension in the body. When you engage in belly dance, you enter into a state of mindfulness, as you focus on your movements and become fully present in the moment. This can help distract you from the stresses of everyday life and help put your mind at ease. In addition, belly dance is known to stimulate the release of endorphins, which are natural mood-boosting hormones that can improve your overall sense of well-being and happiness. By incorporating belly dance into your daily routine, you can enjoy the many benefits of this dance form and experience a greater sense of calm and relaxation in your daily life.
Community:
Belly dance is much more than just a form of exercise or a means of self-expression – it is also a thriving social dance form that has cultivated a strong and supportive community of dancers around the world.
At the Salimpour School we have cultivated an amazing and supportive community of dancers. There are plenty of ways of being a part of the community from every part of the world. By taking our Online Classes and online courses, students get access to platforms and spaces full of feedback, teaching, and encouragement. We also organize events like workshops and performances all over the world, and we love to see everyone in the community participate and reach their goals.
Whether you are a seasoned pro or a beginner just starting out, there is a place for you in the belly dance community. By joining a belly dance class or attending a belly dance event, you can gain access to a vibrant and supportive community that can enrich your life in countless ways.
Cultural appreciation:
Belly dance has a rich history and cultural significance that dates back thousands of years. Originating in the Middle East, this dance form has been a part of traditional celebrations for centuries. Throughout its history, belly dance has evolved and adapted to reflect the different cultures and communities that have embraced it. By learning about the history and origins of belly dance, you can gain a deeper appreciation and understanding of the different cultures and traditions that have shaped this dance form.
At the Salimpour School we offer an authentic experience. Suhaila Salimpour, second generation belly dancer, carries her mother's legacy by dancing and teaching. She created the first ever belly dance certification program and continues to evolve and create learning opportunities for dancers all over the world.
Overall, belly dance is a great way to stay healthy, build self-confidence, and connect with others. Whether you are a beginner or an experienced dancer, there is always more to learn and explore in the world of belly dance. So why not give it a try and see for yourself?
At the Salimpour School we'd be happy to have you! Contact us today to learn about our different learning options and let's start dancing together!