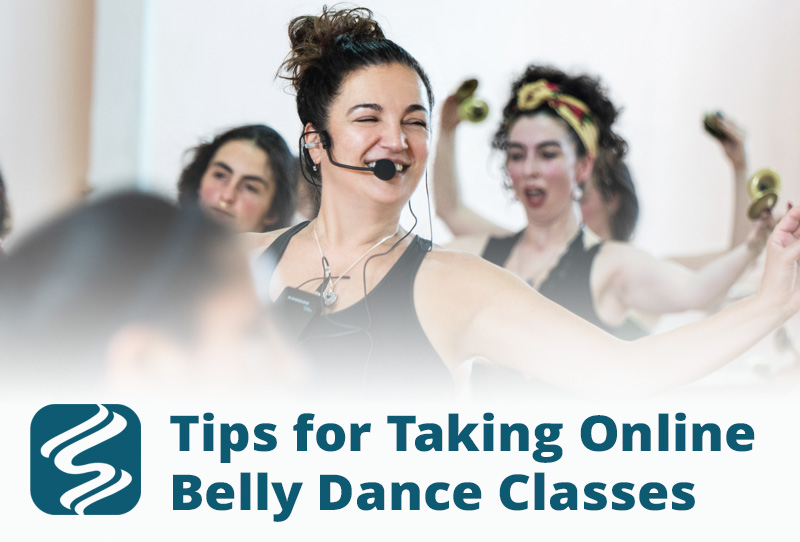 Taking belly dance classes is a fun and exciting way to learn a new skill, move your body, and explore the rich history and culture behind this dance. This beautiful art form also provides opportunity for personal growth and expression.
Whether you're a new dancer or you have a lot of experience, taking online bellydance classes has its challenges. That's why you should always be prepared before a class to make the most out of it.

In this article, we'll give you some tips to be fully prepared for your future belly dance classes.
Prepare for Class
Before you start your online belly dance classes, it's important to prepare yourself and your space. Identify a quiet and comfortable area where you can practice without distractions. Make sure you have a reliable internet connection and a device with a large screen to view the class. It's also essential to choose the right class or program that suits your needs and level of experience.
Collect Your Tools
Belly dance requires certain tools and accessories to make the most of your class. Gather your supplies, including comfortable clothing that allows you to move freely, a yoga mat, finger cymbals, and any other equipment that is required for each specific class. Don't forget your water bottle! It's important to stay hydrated.
This will ensure that you're well-prepared to focus on the instruction without worrying about being uncomfortable or unprepared.
Always Begin with a Warmup
Like any physical activity, it's essential to warm up before beginning your belly dance class. Even if you don't have time to complete a full warmup, do some basic stretches to prepare your body for the movements you'll be practicing. A good warmup will help prevent injuries and ensure that your body is ready to move.
Go at Your Own Pace
One of the benefits of online belly dance classes is that you can take the class several times or divide it into smaller sections to go at your own pace. Don't feel pressured to keep up with everyone else in the class. Take the time you need to master the movements or get comfortable with choreography.
Observe Everyone
While it's important to follow your instructor's lead, it's also helpful to observe the other students in the class. You can learn a lot from their questions, comments, and progress. Don't hesitate to ask questions or share your own insights with others in the class.
Set Realistic Goals
It's important to set realistic goals for yourself when taking online belly dance classes. Start with simple goals, such as completing one class per week, and gradually increase your frequency and intensity as you improve. Remember to focus on progress, not perfection, and celebrate your successes along the way.
Enjoy the Process
Finally, remember to enjoy the process of learning belly dance. It's an exciting and rewarding experience that allows you to explore a unique art form, improve your fitness level, and connect with a community of fellow belly dance enthusiasts. Embrace the journey, have fun, and take pride in your progress.
Remember, belly dance is authentic movement that feels right for a reason! All of these tips will help you make the most of your class. But at the end of the day, the most important thing is to have motivation and discipline to learn to get better everyday!

If you haven't started online classes yet, go to our online classes site to get started!