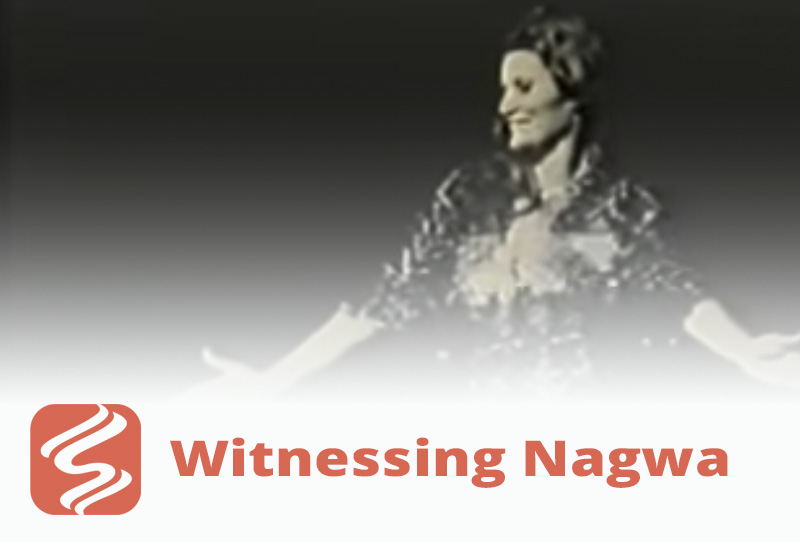 Close your eyes, and imagine…
Cairo, Egypt. Summer 1968.
You're at an outdoor festival. The scent of jasmine fills the air. The 35-piece orchestra plays their opening bars—new music with ancient roots. And then the great and incomparable Nagwa Fouad enters the stage.
The audience is smashed together, and you crane your neck to get a better look at this dance icon as she moves through her show. Then it's time for the drum solo. A drum solo that will remain a classic for decades to come…
This particular drum solo by Nagwa Fouad has become a part of belly dance history. So many dancers who have come after, now for several generations, have imitated, emulated, and paid homage to this tiny moment in time. It has become, in a way, part of the tradition and practice of belly dance. And it is essential viewing for anyone in this dance form.
At only two-and-a-half minutes, this performance leaves me breathless and gasping for air at the end. No matter how many times I watch it, I'm in awe of Nagwa's ability to control the musicians as well as the audience. She hardly travels on the stage as she commands her drummer to slow down and pay attention to her movements. She has a clear vision for the pacing of her show, which only adds to the mystique of her reputation as a true star of the dance.
The drum solo builds slowly with classic Middle Eastern and North African rhythms as its foundation. She draws inspiration from other regions, too, with Latin American bongos to accent her shoulder and head movements. The keyboard adds a 1960s vibe, reminiscent of the classic James Bond films. And her suit dress is a tribute to the traditional and rural cultures and crafts that were falling out of favor as Egyptians shifted to modern, urban lives.
The performance ends in a flurry of head swings inspired by the trance ritual of the zar. The camera zooms in and out quickly, reflecting the popular cinematic styles of the time. But it just makes me dizzy! Even though the film and sound quality are poor by today's HD standards, they only add to the charm of this clip.
All of us dancers are lucky that this moment was captured at all. And every time I see it, I am so grateful that I can witness Nagwa's greatness again and again, even if I couldn't have been in Egypt in the 1960s. Of course, nothing could come close to actually being there and witnessing her charisma life.
So… I imagine the scent of jasmine. I hear the crowd. I feel the sense of bodies seated around me as we watch the final crescendo of this show. In my mind's eye, I've created the whole scenario… just out of this tiny, 2-minute clip.
Today, we have access to so many performances right at our fingertips… but sometimes less really is more.
The original blog was published in the Salimpour School blog on October 16, 2020.