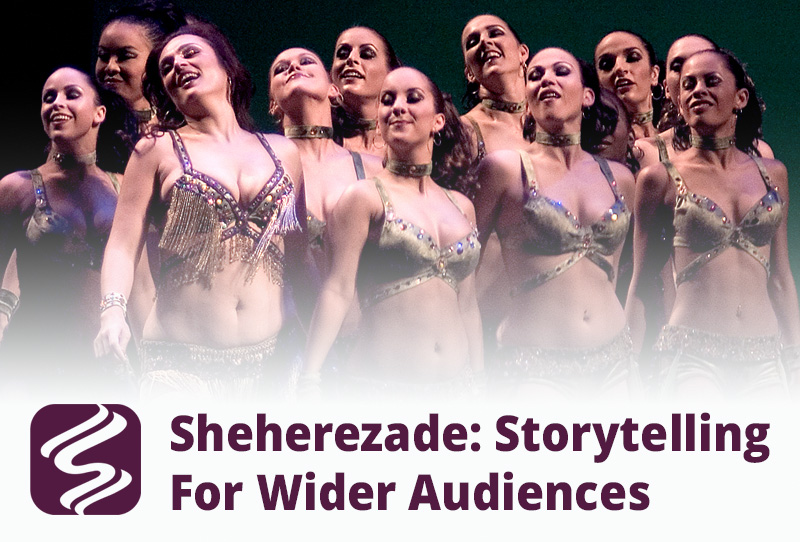 In the Beginning… of the 2000s Belly Dance Boom
In 2003, belly dance in the United States was on the verge of an explosion of popularity.
Since the 1980s, interest in dance lay dormant, superseded by fitness trends like aerobics and Jazzercise. And the idea of the "exotic orient" as a peaceful place full of lazy sultans, endless sand dunes, and beautiful harem girls vanished in the wake of several international terrorist incidents based in the Middle East. The Iran hostage crisis in 1979, the bombing of the Marine barracks in Lebanon by the Islamic Jihad Organization in 1983, and Muammar Qadhafi's sponsorship of the bombing of Pan Am Flight 103 all drastically shifted the perception of the Middle East in the eyes of Americans.
But in the late 1990s and early 2000s, the image of the Middle East appeared before North American audiences in other ways. Audiences were entranced with Shakira, a Lebanese/Colombian singer, who made waves with her song "Osos Asi" and the Spanish-language telenovela El Clón featured a belly dancer and focused on a Muslim family had also generated a loyal following. And pop starlet Britney Spears danced with an albino Burmese python at the MTV Video Music Awards as she performed "I'm a Slave 4 U," complete with pseudo-belly dancer back-up dancers. 
And this shift happened in spite of the September 11 attacks in 2001… or perhaps, because of them.
It's possible that some Americans—mostly women—were drawn to a space where they felt that they could express themselves without fear and engage with the Middle East in a manner diametrically opposed to what they were seeing in the media and on the 24-hour news cycle. In the documentary American Bellydancer, Suhaila remarks that her classes were full in the wake of September 11. Maybe belly dance held within it a promise of peace and cross-cultural understanding.
And Suhaila, who had just recently returned from dancing professionally in the Arab world, wanted to share her beloved dance with a wider audience, not realizing that she was at the forefront of a worldwide movement. In addition, she didn't realize that she had missed a massive downturn in belly dance's popularity in the 1980s when many dancers lost interest and many Middle Eastern nightclubs throughout the United States closed. At that time, she was dancing for Arab audiences both in southern California and later in the Arab world as well as touring to teach workshops.
After resettling in Berkeley, she had big ideas for exploring the potential of belly dance to reach audiences who knew little or nothing about the dance form to which she had devoted her entire life. She wanted to create a show that would have cross-over potential, that is, appeal to belly dancers and non-belly dancers alike. She, too, felt a need for intercultural understanding.
A Show For Everyone
The tale of Sheherezade—which frames the famous One Thousand and One Nights, commonly known as the Arabian Nights, a collection of tales from the Middle East, Persia, as well as Central and South Asia—is, at its heart, about storytelling. Sheherezade offers herself as the last remaining maiden in the kingdom of a cruel Shah who marries a new girl every day only to kill her in the morning. But with her shrewd thinking and vibrant mind, Sheherezade wins the Shah's heart by telling tale after tale, but never finishing them, night after night.
Suhaila, being Persian-American, grew up with the stories of the One Thousand and One Nights; she even named her childhood cat "Sheherezade." She thought that a show based on these classic tales could appeal to a wide variety of audiences. But instead of focusing on the stories Sheherezade tells—like the well-known "Ali Baba and the Forty Thieves" or "Aladdin and the Wonderful Lamp"—Suhaila plays the role of the storyteller herself. Each dance should be seen through the eyes of a woman whose life is literally on the line as she shows that love can truly conquer all. Suhaila says that she identifies with the character of Sheherezade: the "archetypal woman survivor."
Creating a Show from Scratch
But before Suhaila could produce this full-length show, she had to make sure she had the right music, costuming, and, of course dancers.
Suhaila commissioned and produced each musical composition on the final Sheherezade video recording, from the most classic Arabic songs to the most electronic and hip hop.
In addition, she and her dancers also had to make each and every costume, because, as she says in an interview with Belly Dance TV, they couldn't just purchase costumes from Egypt. The production had to have "music that fuses, costumes that fuse, choreographies that fuse;" she and her team had to create the show from beginning to end.
And her dancers… she had to train them in her technique, as well as stage presence and more. She did, however, recruit dancers from local jazz dance studios, knowing that they would have the ability to perform the intense fusion work required of pieces like "Reunited (Bongo Funk)" and even "The Harem (The Cymbal Dance)." But the belly dance technique was all on Suhaila.
Experimentation and Trial Runs
In 1996, she began choreographing individual pieces and test-running them at Rakkasah West, one of the largest and well-attended belly dance festivals in the world. With its large proscenium stage, Suhaila set complex compositions for herself and the Suhaila Dance Company, which at the time had over 20 dancers. Pieces that we now consider "iconic" and "classic" pushed the boundaries of belly dance, and with some controversy and kerfuffle amongst the purists.
Suhaila seamlessly blends her lifelong study of jazz with belly dance in "Arabian Gold" and "Bongo Funk." Pieces like "Desire (Yanna Yanna)" and "Dance of Sheherezade (Accessible)" highlighted the technical and musical skill of classic belly dance, demanding virtuosic technique and finger cymbal playing. She also crafted works for audiences unfamiliar with Arabic music or even with belly dance at all. "The Harem (The Cymbal Dance)" and "Edge of Survival (Sheherezade Sword)" included fun, crowd pleasing elements with near a capella finger cymbal playing and daring prop balancing.
When reflecting on the show, she still feels that it was important to include her daughter, Isabella, who was barely four years old at the time. Isabella, of course, dances to Alf Layla Wa Layla, the Umm Kulthum song named for the original Sheherezade stories. Suhaila always meant to create art that would be appropriate for all ages. Even "Kama Sutra," while it might seem suggestive at first glance, highlights the lines of the body in an abstract fashion, as dancers move through a series of poses inspired by Erté, Indian temple sculpture, and contemporary street dance (Locking and Tutting).
Belly Dance for American Audiences
In the Belly Dance TV interview, Suhaila describes a time when Suhaila Dance Company was hired to perform at a corporate party. The show included classic belly dance to Arabic music, but she says, "if you don't love belly dancing, you're just going to say pretty girls, pretty costumes… OK, where's the dessert?" The mostly-American audience lost interest after a few songs. But then, she says, they performed the "Cymbal Dance," which was "kind of a gimmick," and the whole place "turned and went, 'Wow! Cool!'" She realized that if Sheherezade were to "cross over," she'd have to include more than just the Arabic classics.
Suhaila wanted to use dance and performance forms outside of belly dance that audiences would have more familiarity with, particularly as Cirque Du Soleil was transforming the performance scene in Las Vegas and thought the United States. Although not every act made it on to the Sheherezade commercial DVD, the production included performances with fire, acrobats, and aerial circus arts—still considered fringe and unusual at the time. Unfortunately, these acts didn't make the final cut because Suhaila did not own the rights to the music used by these performers. But you can see glimpses of them on the Belly Dance TV, Volume 2 DVD.
Although most of the music in the show is recorded, Suhaila included violinist Fathi al-Jarrah on violin. She felt that American audiences would be familiar with the sound the the violin, but might be able appreciate it played in the "Arab" style. Her performance of a taqsim with Fathi was also represented the improvisational aspect of belly dance as it is performed in nightclubs and other venues in the Middle East.
Even with impeccable belly dance ensemble work, fusion choreographies, and circus arts, Suhaila had a difficult time describing the show to potential buyers. She found relief when Riverdance hit the American theater scene. She could finally tell prospective theaters and producers, "It's like Riverdance, but in the Middle East," and they immediately understood.
She produced the show both in Los Angeles and back home in San Francisco.
Suhaila says, "There's nothing I've ever made that I didn't feel could do in the Middle East."
What to Watch For
Like nearly all of Suhaila's efforts, Sheherezade is not just an artistic venture, but it is also an educational one. At first, she wanted to take someone who maybe didn't understand Arabic music and belly dance and "take them on a journey." But today, we can look at the show from the perspective as students of the Salimpour School, focusing on a different element depending on our level of training.
Dancers working on or at Level 2 can look at the technical execution of the dances not only on Suhaila's body but on the bodies of the ensemble. Suhaila notes that most of the ensemble, of not all, were only Level 2 certified at the time. She says, "Level 2 really is enough. I created all of Sheherezade with Level 2 dancers." That's not to say that a dancer should stop at Level 2, but it certainly gives a dancer enough skill to be quite competent as a performer.
Level 3 dancers can study the 4-minute long vibration performed by Suhaila in the show's second scene, "The Capture," as the company performs "The Stomach Dance" over a consistent, rhythmic Suzy-Q around her.
Members of the recently-created Salimpour Collectives should take special note of the ensemble work. Suhaila and the Dance Company spent hours refining and matching arm and leg lines, staging, and making sure that everyone was on the correct downbeat at the right time.
And, of course, many of the choreographies remain core elements in the Salimpour School repertoire: "Yanna Yanna," "Bongo Funk," and "Accessible" are required for dancers testing for Suhaila Format Level 4. Three of the pieces also appear in Bal Anat: "The Capture" (also known as "The Stomach Dance"), "In the Beginning" (The Mother Goddess or Mask Dance), and "Edge of Survival" (Sword Dance). "The Harem" (The Cymbal Dance) is now assigned to Salimpour Collectives around the world for them to learn and perform. Other pieces are not as commonly seen today, such as "The Marketplace," "Kama Sutra," and "Arabian Gold."
Sheherezade Dances On
Although the show never secured a regular running in Las Vegas—something that Suhaila and her team were actively pursuing—she did receive recognition back in the San Francisco Bay Area.
She was nominated for an Isadora Duncan Award for Individual Performance, a prestigious dance award for performers and producers in the San Francisco Bay Area. Typically, dancers are not nominated for shows that only run for one night, as Sheherezade did in San Francisco. And never before had a belly dancer been nominated. It's possible that if the show had run for multiple nights, that the entire show might have been nominated.
Today, Sheherezade lives on in video recording, and in the choreographies that students in the school still perform regularly. These dances survive in our bodies, as we share our stories with a new generation of audiences and dancers.
The original blog was published in the Salimpour School blog on 5 Mar 2019