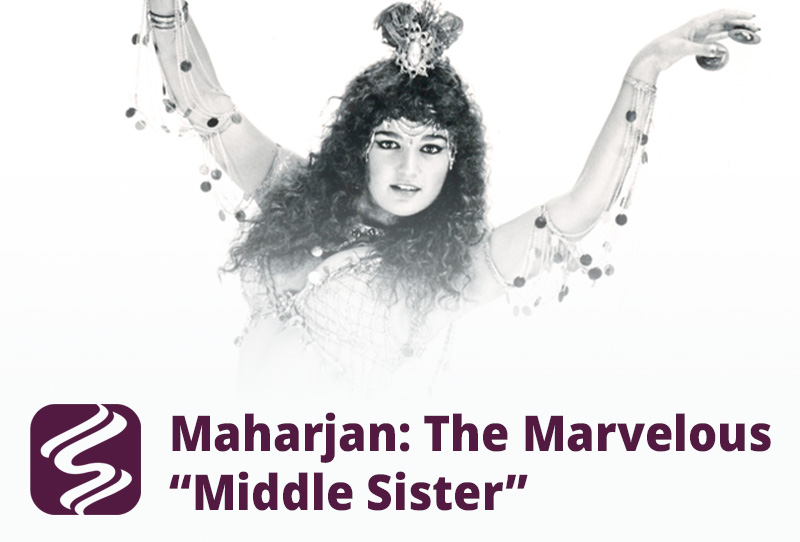 Suhaila choreographed three pieces in high school, in which she experimented with the techniques that would become integral elements of her belly dance format. These three pieces—"Joumana," "Maharjan," and "Hayati"—showcase her intricate musical interpretation, layering technique, and finger cymbal playing. In these pieces, she began applying her own muscular approach to belly dance, while integrating her extensive training in jazz, ballet, tap, and other dance forms.
Jamila's Daughter Grows Up
When she first performed "Joumana," it was clear that the "little girl" Suhaila—the one who was always at her mother's side—was growing up into a formidable performer. And some in the belly dance scene felt threatened by this spitfire with her energy, flexibility, and choreographic fearlessness.
Suhaila choreographed "Joumana" with guidance from her mother in 1982. She had just started to integrate jazz footwork from her intensive study with Yuki in Castro Valley, and Suhaila says that she still struggled with many of the technical elements, such as pelvic locks double time. She was also just beginning high school, which is such a rite of passage for a teenager in this country. It means that you are transitioning into being an independent young adult.
In the summer of 1983, Suhaila went to Cairo, Egypt, on her own. There she observed nightclub dancers and their enormous bands as well as party-goers and families dancing at celebrations, weddings, and festivals. The experience forced Suhaila to mature in many ways. Imagine traveling to a foreign country by yourself, with no cell phones or internet, staying with people you barely know, unable to speak the language, or calling home. Indeed, Suhaila had to grow up quickly.
An Obsession with Movement
When she returned to the United States, she dove back into her dance training. She was in classes for 4 hours a day, even earning Physical Education credit from her high school. She was also in the fitness world, diving into the newly emerging aerobics fad of the early 1980s.
At this time, too, she was deep in her collaborations with Walter "Sundance" Freeman, a tap and Boogaloo dancer from Oakland, California. Boogaloo is distinguished by its isolations, hard stops, full-body waves, and robotic illusions. Of course, one of the quintessential Boogaloo elements Suhaila integrated into her technique is the hard contraction movements that many belly dancers call "pops and locks." These quick, sudden, direct isolations of the hips and rib cage feature heavily in "Maharjan," accenting the teks of both the tabla and bongos in the original recording.
By spending all her free time taking classes, exploring the muscular execution of belly dance movements, and experimenting on her own, her body grew stronger, more flexible, and more capable. And with all this newfound physical power came a sense of confidence, even what she calls "cockiness."
Middle Eastern Inspirations
At the same time, Suhaila studied every performance video from the stars of the Middle East that she could get her hands on… and at the time, there weren't very many. But she obsessed over Mona Said (especially her iconic drum solo in the gold costume), Hanan, and Nadia Gamal, watching one recording so much that the tape inside snapped.
And, of course, she listened to the new music coming out of the Middle East over and over again, committing each melody line, instrument, drum accent, and rhythmic change to memory.
Even though some dancers weren't sure how to react when they first saw "Joumana," they knew that it was innovative. They were curious about what Suhaila would create next, and took notice when Suhaila debuted "Maharjan."
Suhaila was not at all apologetic for this piece; it's full of teenage bravado. Suhaila describes it as a bit of a "splash of cold water to the face" to the viewer. It's hard-hitting, non-stop, and in it, Suhaila says she was "really trying to push my abilities." It was, she says, "a throwdown." Because of that, however, she believes it's often misunderstood. Many of the older dancers in the belly dance scene likely didn't know what to do with all her teenage energy.
70s Music
While "Joumana" was almost an experiment, Suhaila describes "Maharjan" as the dance in which she announces to the world: "I'm going to be a professional dancer!"
The music itself was recorded in the 1970s and has the classic 1970s belly dance instruments: electric keyboards, bongos, a full strings section, and more. Instead of choreographing an "homage" to the 1970s, or to the dancers Suhaila had been studying so intensely, she chose to look forward. She describes her choreography as being "futuristic." She refused to look back; "Maharjan" is all about moving forward.
Future-Forward Inspirations
The 1980s were the era Fame (1980), Flashdance (1983), and Footloose (1984), as well as the debut of MTV, which featured hundreds of music videos with elaborate choreographies performed by the likes of Paula Abdul, Janet Jackson, Michael Jackson, and of course, Prince. Commercial jazz dance was everywhere, the allure of fame following right behind it.
At the same time, Suhaila also found inspiration in many of the science fiction and fantasy films being released at the time. The desolate dystopia of Mad Max (1979), the cyberpunk film noir of Blade Runner (1982), and the space fantasy of the Star Wars trilogy—especially Princess Leia's two-piece costume in Return of the Jedi (1983)—all heavily informed Suhaila's costuming. If you look closely, you'll see shredded fabric, mesh and net, and heavy gold chains.
The Look
Suhaila and her mother commissioned Sandra Woodall, costume designer for the San Francisco Ballet, to create colorful interpretations of cyberpunk and science fiction looks for Suhaila's choreographies. Suhaila says that she needed costumes that were meant for full-out dancing; the heavily beaded two-piece costumes from Egypt were too constricting and restrictive. The skirts of Woodall's designs were basically dance briefs with attached skirts and belts, allowing Suhaila a full range of movement while fully accentuating her glute-driven hip work.
If that weren't 80s enough, this is also around the time when Suhaila permed her hair. Because nothing says "professional dancer" in the 1980s like a perm.
The Importance of Knowing the Original Music
Suhaila chose these three pieces—"Joumana," "Maharjan," and "Hayati"—because they each can stand on their own. They're also short enough to perform in a workshop weekend evening showcase or at a festival (at least, they were at the time; festival slots now are much shorter). Each one has a fast opening, a middle taqsim, a medium middle, and a high-energy wind-up. They are, as Suhaila says, "a complete meal."
If you're in the Salimpour School, you're probably familiar with the version of "Maharjan" on Arabian Musicals Volume 2. Now, if you listen to the original recording, you'll notice that the Arabian Musicals version is quite different. The band is smaller, there are fewer instruments, and sometimes the percussive accents are missing or understated.
But Suhaila reminds us to really know the original version so that when we learn her choreography and perform it to the Arabian Musicals version, we can still embody the sentiment and intention of the grand original. Of course, this is her advice for learning any choreography to a remake of a song: always have the original in your head when performing to a newer version. In doing so, the choreography will make more sense, and you'll likely have a deeper relationship with the piece.
What to Watch For
For dancers new to the Salimpour School or studying Level 1, Suhaila asks that they pay attention to the clean and precise glute work and pelvic locks. Also, note the clear separation between movements in the upper body and lower body. Start looking for when Suhaila dances to the melody and when she dances to the percussion and when. And notice how strong and solid she is in Home Position: the knees are soft and bent, and the torso is lifted and long.
Level 200
For dancers in Level 200, pay attention to how Suhaila uses the stage. Look at the patterns on the floor—circles, diagonals, straight lines—and note when she's "in" with the music and when she's "out." Suhaila also asks that dancers in Level 200 look at the arc of the piece as well as the movements that connect musical phrases.
Level 300
Dancers in Level 300 should pay extra attention to the layering and technical skills. Also, look at the movement phrases and consider why Suhaila chooses certain movements and when. In addition, look at how she's using the audience grid and projecting from the stage.
Level 400
If you're working in Level 400, look at the quality and energy of the movement. Suhaila says that she feels that there are weaknesses in this piece, that is, the skill is level across the entire choreography. Sometimes when we learn difficult choreographies, we can feel in our bodies which movements are challenging and which ones are easier; but it's our goal to make everything look effortless. And the audience should also never feel like the dancer is struggling. The technical baseline of Maharjan is very high, and as a Level 400 dancer, you should be aiming for that in your own dancing.
Level 500
Level 500 dancers need to be able to identify and break down each element as they watch the piece. It's your goal not only to be able to dance the piece yourself but to coach another dancer who is learning it for certification. Also, consider how Suhaila fuses her work with Walter "Sundance" Freeman and be able to describe the differences between "Joumana" and "Maharjan."
"Maharjan" is a bridge in Suhaila's choreographic career, one that takes her movement from the vocabulary of her mother's format into her own format, as she journeys into being a professional dancer and a choreographer in her own right.
The original blog was published in the Salimpour School blog on 4 Oct 2021