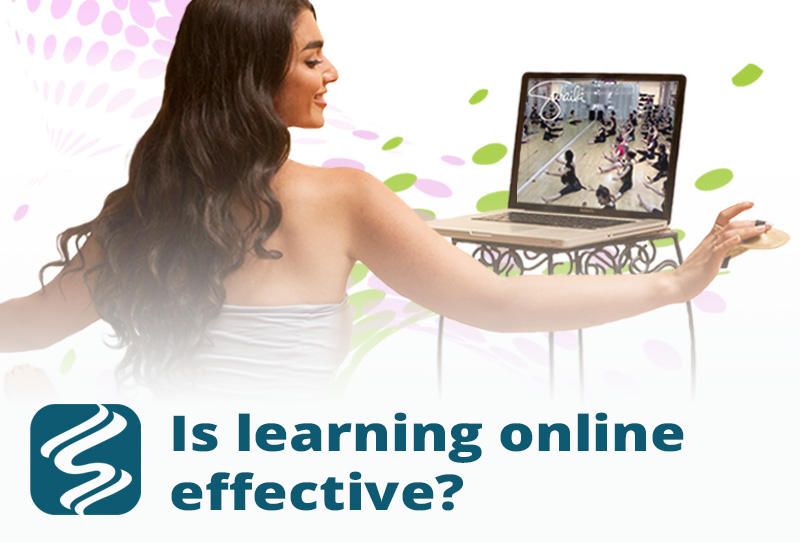 Bellydance has gained popularity worldwide due to its unique style and graceful movements. This has led to many people becoming interested in learning this beautiful artform and the culture around it.
However, finding a trust-worthy school that teaches authentic bellydance can be a challenge. Many instructors don't have that much experience or the right knowledge to provide a genuine experience. For this reason, it can be difficult for people to find a school they can trust. Besides this, not everyone has the availability to attend a studio at the same time 3 or 4 days per week, let alone everyday.
This is what makes online learning so great! No matter where you are or when you're available, you get access to a quality education provided by authentic instructors. The only things you need are the desire to learn and good internet.
Suhaila Salimpour has provided high quality online education since 2008! Through the Salimpour School, she has created a certification program, online classes, workshops and more. As time passes and technology advances, she has adapted and implemented changes and upgrades to continue to offer the best tools to Salimpour School students.
If you have been thinking about starting bellydance lessons, you have probably wondered if learning online is an effective way to do it.
The good news is YES: it is definitely possible to learn belly dance online. With the Salimpour School of Bellydance, you receive top-notch instruction from the comfort of your own home.
Your Own Pace
One of the advantages of learning belly dance online is that you can learn at your own pace and on your own schedule. This is particularly beneficial for those with busy schedules or who live in remote areas without access to a local belly dance studio.
All Levels
Suhaila International offers a variety of classes for dancers of all levels. From beginner to advanced, there is a class that will suit your needs. Additionally, the instructors are highly trained and experienced, ensuring that you receive quality instruction.
Authenticity
Learning the culture around belly dance is an essential part of anyone's education. When attending our online school, you can be assured that you're learning from an authentic source, Suhaila Salimpour herself. By studying online you get access to content about the history, music and traditions behind this artform. 
Time Management
Lastly, time management is an important aspect of learning belly dance online. With a busy schedule, it can be difficult to find time to attend in-person classes. Online classes allow you to fit belly dance into your life on your own schedule, allowing for more flexibility and ease.
Suhaila Salimpour offers solid education to form well-rounded dancers. Whether you want to learn professionally and get certified, or you're looking for a new hobby, our Online Classes Site and our Institute are the best places for you to learn the proper dance techniques, choreography, history, and culture.
Don't let a busy schedule or location hold you back from pursuing your passion for belly dance. Try online belly dance classes today and see for yourself the benefits of learning online.