Many women (Western and some Middle Eastern) who practice belly dance ascribe to the ideas of the dance being empowering, inherently feminine, and as a means for individual self-expression. Women (and men) who are not practitioners, however, often see this dance, and presentations of it, as objectifying, sexual, and degrading. The purpose of this section is not to make a case one way or another, but to illuminate the issues inherent in linking feminism and belly dance, as well as shed light on the ties between the rise in popularity of belly dance in the 1960s and 1970s with the women's liberation movements of the same time.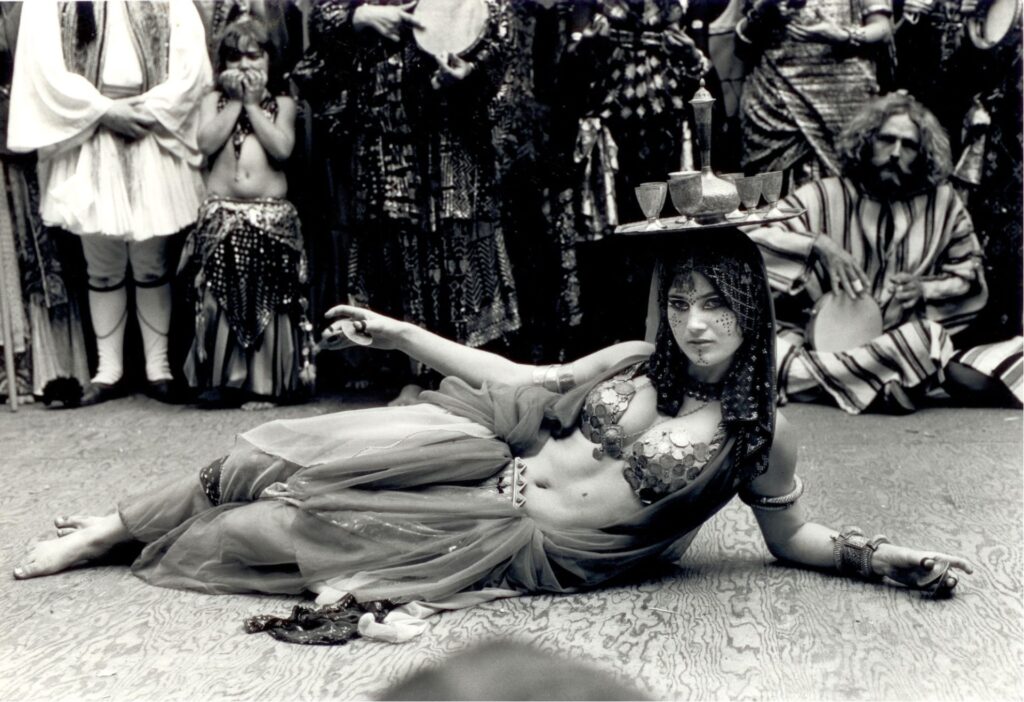 1960s Counterculture 
The 1950s were a time of conformity for many women in the United States. After World War II, women were expected to stay at home, have and care for children, and be housewives. Girls were not allowed to wear pants to school in many parts of the United States, and career options for women were extremely limited as compared to today. As the children of the Baby Boom—an unprecedented number of young and affluent people born between 1946 and 1964—grew to be teenagers, their frustrations with their parents' message that they must conform to these ideals came to a head in the mid- and late-1960s. In addition to the burgeoning feminist movement, the civil rights, the anti-nuclear, free speech, anti-war (protests against US involvement in the Vietnam War also began in 1964), environmentalism, and gay pride movements were gaining popularity and momentum across the United States, specifically in San Francisco and New York City. It was a time of great potential for "individual self-actualization."¹
Many scholars attribute the dawn of the women's liberation movement, also called "Second-Wave Feminism" (the first wave being that of suffrage activists in the early 1900s) to Betty Friedan and her bestselling book The Feminine Mystique, published in 1963. In it she objected to the mainstream media image of women, stating that placing women at home limited their possibilities, wasting their talent and potential. In addition to Friedan's work, the United States Food and Drug Administration's approval of the oral contraceptive pill three years earlier made it much easier for women to have careers without leaving because of an unexpected pregnancy, and enabled women to have more control over their own bodies. The legalization of birth control and the availability of antibiotics—making many sexually transmitted diseases more of an annoyance than a life-threatening illness—also contributed to the sexual revolution of the late 1960s.²
This confluence of events coincided with belly dance's rise in popularity at the same time. Several women who began belly dancing in the 1970s claimed that they saw the dance as related to the counterculture, with its colorful ethnic-inspired clothing and "hippie" aesthetic. One dancer said she felt like being involved in belly dance was "very daring."³ Many how-to books published at this time also capitalized on the burgeoning fitness industry (still very alive and well today) and the emergence of a kind of feminist thought that we now call "goddess religion"⁴ (also still very alive and well today).
Dancers and instructors capitalized on many women's desire to be more secure and comfortable in their bodies, especially with regard to sexuality. Dance scholar Anthony Shay claims that "feminists […] adopted belly dance as an emblem of the female sexual revolution in the 1970s."⁵ Women's studies scholar Amira Jarmakani says that some members of the American belly dance movement seek out the elements of the dance such as goddess worship, the lost powers of the matriarchy, and the idea of belly dance being the worlds' "oldest dance" to support a "feminist celebration of the power of female sexuality."⁶
American dancers in the 1970s embraced the dance as a means of sexual liberation. Many books and dancers from the time emphasize the dance's "sensuality" and how it had the potential to improve a woman's sex life with her husband. In a how-to book, dancer Serena Wilson says that belly dance is "closely associated with sex," and that it is "sexually stimulating… to both the man who watches it and to the woman who performs it."⁷ She later devotes an entire section of her book to the sexual benefits of belly dance, claiming that it has been "used for sexual instruction" and that belly dance "helps release the sensual and sexual you."⁸ In another instructional book co-authored by Bert Balladine (as this was way before the time of home video in any form), we read that the confidence gained by the woman who belly dances makes her more desirable to others as well as to herself.⁹ Contemporary belly dancer Ansuya says in the American Bellydancer DVD that she learned how to dance from her mother, who was a prominent dancer in the 1970s, and that her mother emphasized the sexual liberation and body-positivity aspect of the dance (a notion about which she and dancer Jillina argue).¹⁰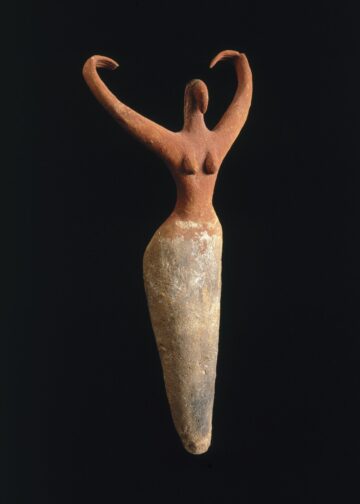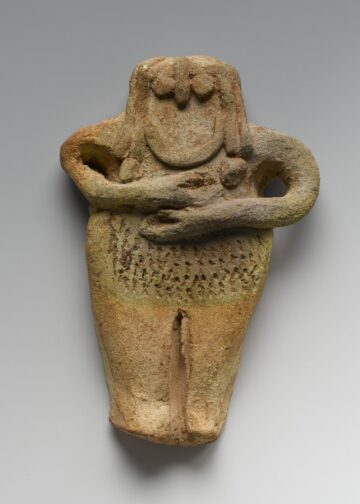 Feminism, the "Goddess," and Belly Dance
An extension of the overlap between women's liberation and belly dance is the adoption of belly dance as goddess worship and as a means to connect with the ancient "divine feminine." Many dancers have linked belly dancing and giving birth, claiming that the pelvic movements of the dance aid in and resemble the movements demanded of the body in delivery.¹¹ It is difficult to make such a link, as today hardly any performer of Oriental dance in the Middle East would claim that what a dancer presents on stage is related to childbirth. However, dancer Morocco observed a birth ritual in Casablanca in which the delivering mother did use abdominal movements similar to those used in Oriental dance.¹²
Coincidentally (or maybe not) the goddess as feminist symbol emerged in the 1960s and 1970s, just as belly dancing became popular as a form of exercise and self-expression.¹³ Also at that time, reliable scholarship on Oriental dance had barely started (and still is very much an emerging field of study today), and most dancers would not have had the multitude of historical resources and critical discourses available to us today. In addition, early popular articles and books on Oriental dance such as Curt Sach's World History of the Dance (which conflates the cultures and dances of Persia, India, Japan, China, and Egypt into one vast and indistinguishable "Orient"), assumed that all dance had religious significance.¹⁴ Many of Jamila Salimpour's own writings focused on belly dance as an extension of Mother Goddess worship, and for many dancers of her time, belly dance was intrinsically linked to pre-patriarchal ancient societies. Today, however, anthropologists and other scholars of the dance generally agree that no concrete link has been found between the dances of ancient Egypt, Mesopotamia, or Greece and contemporary Oriental dance. Scholars Shay and Sellers-Young emphasize that there is "no evidence that solo improvised dance […] had religious significance;" indeed, Oriental dance, when performed socially and professionally today, does not carry a codified or institutional spiritual meaning.¹⁵ 
Ancient civilizations did, of course, have dance, and worshipped a variety of powerful goddesses; however, it is scientifically difficult to connect the movement vocabulary of those practices with today's belly dance. Scholars Anthony Shay and Barbara Sellers-Young note that "historical representations of dance in the Middle East are generally sparse," and although "iconographic evidence of solo improvised dance […] appears in myriad sources dating back at least into the third millennium B.C.E.," these images "do not specify or identify specific movements of any of the dancing that is depicted," making it impossible to create accurate historical reconstructions" of those dances.¹⁶ That said, authors of many popular books on belly dance perpetuate this idea, such as Rosina-Fawzia al-Rawi in her book Grandmother's Secrets, Zarifa Aradoon who in her (very difficult-to-find) book Origins and Philosophy of the Danse Orientale traces belly dancing back to 25,000 BCE,¹⁷ and Shawna Helland who links pre-monotheistic goddess worship with the history of belly dancing.¹⁸ 
Of course, today, Western dancers emphasize the "feminine" aspects of the dance, even if they are not, or do not consider themselves, members of the "goddess worship" movements. Dancer Serena claims in a section of her book on the emotionally therapeutic benefits of belly dance that "there is no better way of exploring femininity than through the dance."¹⁹ Scholar Andrea Deagon recalls a personal story in which after one of her performances, a female audience member asks how Deagon could perform a dance that objectifies women, and answers, "I consider myself a feminist too, and 'what we just did' is a dance by and for women and an expression of women's power."²⁰ Deagon also says, "I feel strongly that belly dance is empowering for women. In performance, I find a voice that expresses my essentially feminine life experience, and I become a conduit through which my audiences can share my vision. Through my teaching, I help others find their own voices. This is womanly power, and I wholeheartedly believe that this dance is good for women."²¹
In the Middle East, women find solace in dance, although for them, it isn't performing publicly that empowers them, it is the comfort they find in dancing together, or even just dancing at all. Moroccan writer Fatema Mernissi also says "for centuries, mothers and aunts have taught little girls the elementary gestures of the Oriental dance as an exercise in empowerment." She says the dance is "transmitted […] as a celebration of the body and a ritual of self-enhancement."²² Suhaila Salimpour says in an interview for San Francisco PBS station KQED, "In the Middle East, this is how women support each other […] they wait until the husbands are out of the house, they close the curtains, they pull out the tissue boxes, and they cry and they dance."²³ 
Social dancing—often referred to as raqs baladi, a non-stylized and non-performance form of belly dance—continues to be a joyful activity for many women in the Middle East. Dance scholar Karin Van Nieuwkerk notes that many Egyptians who might otherwise frown on professional female dancers consider social dancing as an expression of "happiness," especially at weddings. One Egyptian woman told Van Nieuwkerk that she loves dancing, but she will only dance at "the weddings of people who are very dear to me." Group dancing is still practiced at henna parties, a sort of bachelorette party exclusively for women throughout the Middle East and South Asia the night before the wedding. Even though the practice waned in the 20th century, it is making a comeback in all segments of Egyptian society. The bride's family hires a henna artist as well as a female DJ who plays Arabic music throughout the night to which the guests dance.²⁴
The content from this post is excerpted from The Salimpour School of Belly Dance Compendium. Volume 1: Beyond Jamila's Articles. published by Suhaila International in 2015. This Compendium is an introduction to several topics raised in Jamila's Article Book. 
If you would like to make a citation for this article, we suggest the following format: Keyes, A. (2023). Male Belly Dancers in the United States. Salimpour School. Retrieved insert retrieval date, from https://www.suhaila.com/feminism-and-belly-dance/