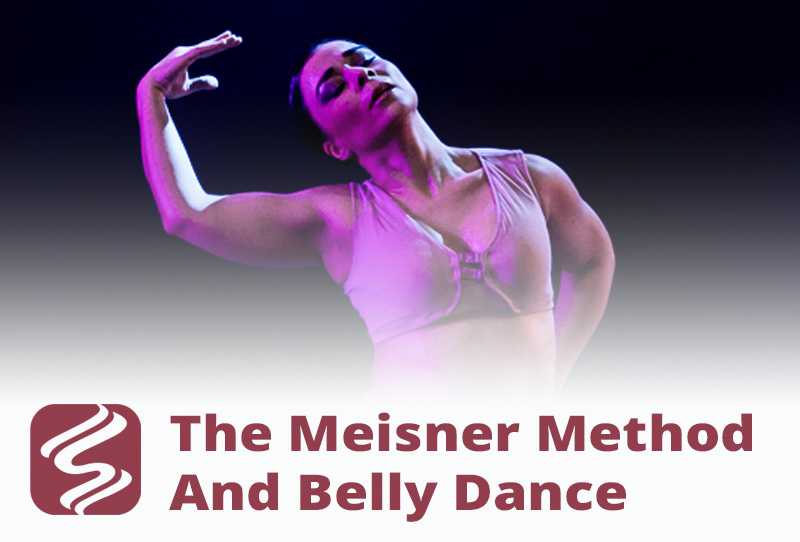 After graduating high school, I moved from Northern California to Los Angeles. In addition to being a regular "house" dancer at Byblos Night Club (6 nights a week), I also did some acting, modeling, and music video choreographing. I enjoyed pursuing these other activities as they were new and challenging, and I learned a lot about myself and the industry. But dance was always my first love, and I knew my future would be in dance.
I sought out teachers and experiences that would develop me as a person and an artist. I attended several acting classes, and I ended up at the Playhouse West run by Robert Carnegie. I took weekly classes with Bob Carnegie and Sanford Meisner. (To give you a time reference, Jeff Goldblum was one of the TAs under whom I studied, and Ashley Judd was a student.) Meisner's method really resonated with me as I could see its application to my dancing.
The classic belly dance we perform today (dated from Casino Opera days) is typically performed "at the moment" with a live audience and band. There is an improvisation component as well as an ongoing, spontaneous interaction with the musicians and audience. I wanted to make that experience even more honest and personal. I showed up weekly for years to my Meisner method classes, and I did the work that was presented to me. I watched and learned from the process of my fellow students. Over time — by showing up, being present, and doing the work — my dance was steadily evolving from what I was learning.
Although I was a regular and good student, I certainly wasn't the superstar of the group. Every year, Bob Carnegie had a holiday party at his home, and only five students from the entire school were invited to attend. I was shocked when I was invited as one of those students. (Coincidentally, that party was held on my 21st birthday.) I believe my teachers were intrigued by my reasons for learning Meisner's method and its application to my dance.
In Level 3 of my certification program, I introduce emotional intent; but when I first began teaching this work, I realized that many of my students were resisting any emotional work, and they didn't know how to express their "real" and "honest" emotions in performance. I went back and studied the Meisner work from an academic standpoint and analyzed the evolution of that work that had integrated organically into my personal dancing. (The work integrated into my dancing over time without me trying or giving it conscious thought; I used the tools instinctively and organically without thinking about them. ) Using my extensive Meisner experience and decades of dance, I adjusted and developed exercises for my students. I tailored the work specifically for dancers to give my students a more direct and efficient means of learning the work. And these exercises are more applicable to our art form.
In Level 4 of my certification program, we begin to apply the work we introduce in Level 3. The goal is a performer who is open and honest with their countenance and emotions, having a true connection to the audience and music – to have "moment to moment" honesty and expression with each note of the music. You learn to be yourself on stage in an open and personally authentic way. For some, the work can seem scary at first; you can feel vulnerable being so open on stage. Some students find the work easy, but most students fall somewhere in between.
But this work is not about divulging deep dark secrets or exorcising demons. It's not therapy, and it's not about self-indulgence. Like any skill — you show up, you embrace the work, and you do the work; over time you develop the skill. We handle the work professionally; you are given an exercise, you do the exercise, and once the exercise is over, it's over — we move on to the next thing. In my program, we work on this together; you aren't alone. We create a safe and positive environment with support and encouragement. And what you learn adds so much value and meaning to your dance.
In the video below, I discuss a few of the influences in my dance, including the Sanford Meisner method. This is an excerpt from a longer interview conducted by Christy of Eighth Wonder Studios, Calgary, in August 2012. Click here to view the entire interview.
http://www.youtube.com/watch?v=0xBte8PzJTg&w=560&h=315/
For those of you who want to study the background of the Sanford Meisner method, research the work of Constantin Stanislavski and Lee Strasberg. You can also find a documentary about Sanford Meisner called "Sanford Meisner: Theater's Best Kept Secret" in seven parts on YouTube.
The original blog was published in the Salimpour School blog on 12 Nov 2012.