Habibi: Vol. 7, No. 1 (1982)
It all seemed to be the logical "next step". In years past I included, among the activities in my weeklong workshop, a bus tour on Saturday which took in the three bridges: Golden Gate, Bay, and San Rafael. We made a sort of triangle tour enabling us to see the sights of San Francisco, Marin, and Berkeley, stopping at Middle Eastern merchant shops along the way. It took from nine in the morning until six at night. That evening we met at the Casbah for our goodbyes. Out-of-towners would ask for lists of who's who and where they were dancing. I took a survey one year and from San Jose to Sacramento I counted almost fifty working dancers. "Are there any troupes performing anywhere?" many would inquire. Unfortunately the chances of weekly troupe performances were not likely. When I thought of all the talent in and around the Bay area, I became frustrated that out-of-towners couldn't see them. Also, many of the out-of-towners who performed on the last evening at the Casbah would have delighted many San Franciscans. At last, the idea was born of the first annual "Great Eastern Faire", an open invitation to all troupes, dancers, and musicians to come and perform for each other.
The response was incredible with participants from the Bay Area, California, and out of state. It was like a reunion, too, with people meeting again after many years separation. What a pleasure it was to see such a variety of styles. More than one performer was of such a high caliber I thought Egypt would sit up and take notice if they could see what we saw. There were many "name" celebrities who performed, and the crowds went wild! One of the many good things that came out of the festival was that many talented performers were seen by potential workshop sponsors. One popular dancer was approached with four workshop offers. What a wonderful chance to see and be seen!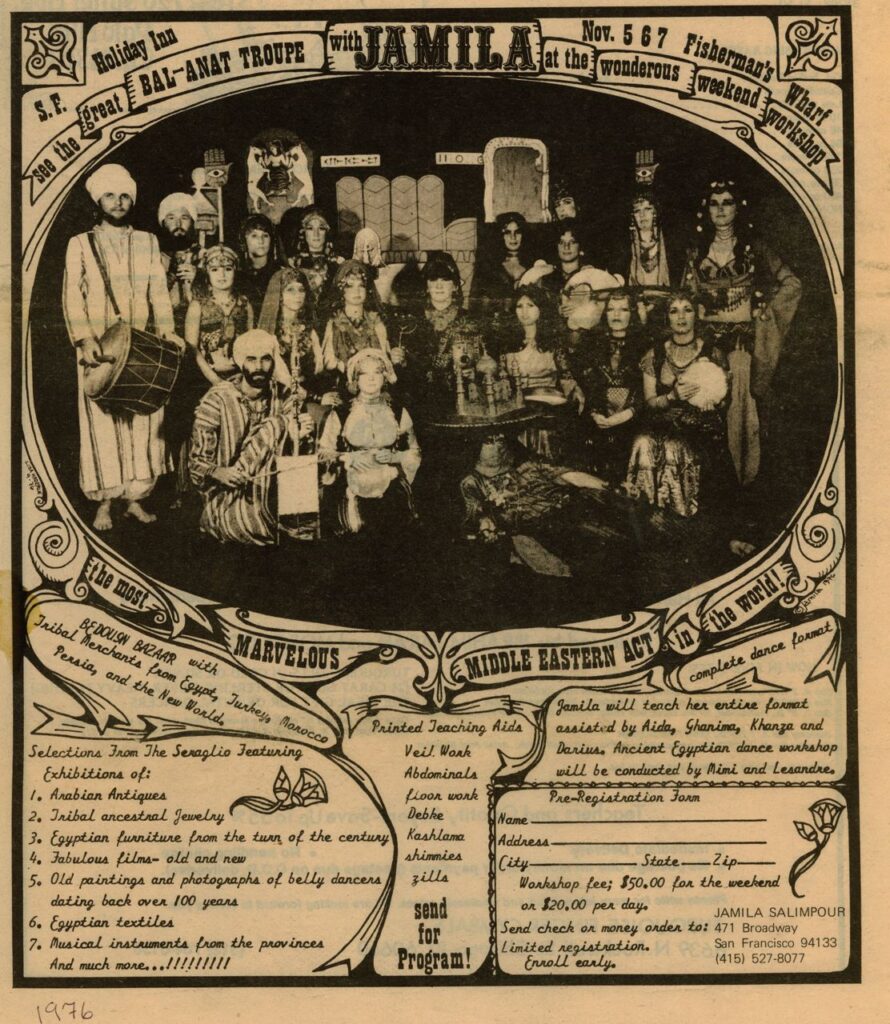 The extravaganza began at eleven in the morning and ended around seven in the evening. Entertainment was continuous varying from solo to group to musical ensembles. There were no incidents, and the atmosphere was truly positive. I had only seen about twenty percent of the participants perform before so I was in for quite a few surprises. There were comedy routines, cabaret dances, tribal, and magic acts. We never knew what to expect.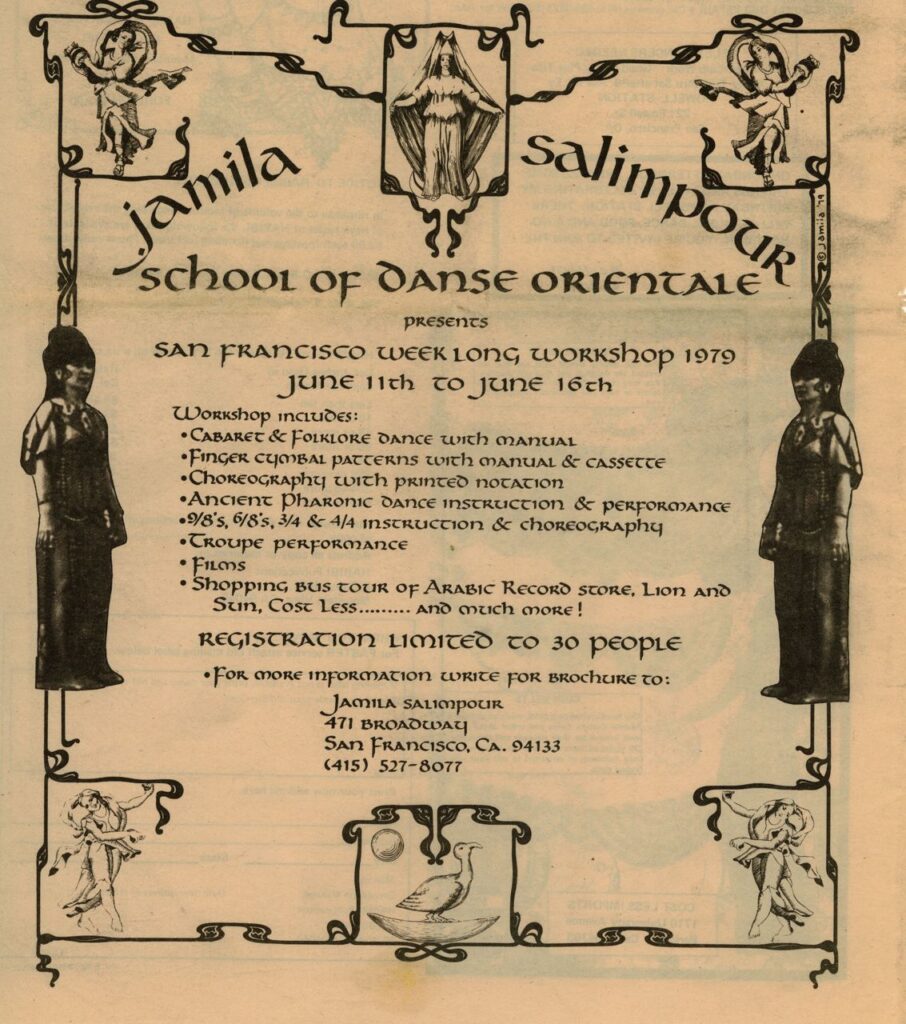 Of course the merchants were there with their wares. There were costume booths with new and refreshing ideas in ready-mades. Vendors sold records, books, jewelry, drums, cymbals, assuit, dance videos, tapestries, clothing, even complete Egyptian tents. There were fortunetellers and calligraphers who wrote your name in Arabic suitable for framing.
Photo Credits:
Jamila's flier for the weekend workshop, 1976.

Jamila's flier for the weeklong workshop, 1979.

Jamila and Suhaila's flier for the weeklong workshop, 1980.

Jamila and Suhaila's flier for the Baghdad By The Bay weeklong workshop, 1981.

Jamila's Wonderous Weeklong Workshop flier, 1982.

Jamila and Suhaila's flier for the weeklong workshop, 1983.

Jamila and Suhaila's flier for the Great Eastern Faire weekend workshop, 1983.

Jamila and Suhaila's flier for the Great Eastern Faire weekend workshop, 1984.
This article was published in Jamila's Article Book: Selections of Jamila Salimpour's Articles Published in Habibi Magazine, 1974-1988, published by Suhaila International in 2013. This Article Book excerpt is an edited version of what originally appeared in Habibi: Vol. 7, No. 1 (1982).