Habibi: Vol. 9, No. 6 (1986)
What started out as a rumor became a reality on March 15, 1986, at the Hilton Towers Hotel in San Francisco when Nagwa Fouad, along with her musicians and four female dancers, performed to a crowd of about one thousand people. The event, held only in San Francisco and Los Angeles, featured the appearance of Egypt's top movie stars and Ahmed Adawiya, the well-known Egyptian folk singer.

Samir Khoury and his wife Ramona organized and booked the Hilton in San Francisco. I would go into their grocery store (on 26th and Mission) and Ramona would be busy between customers, drawing the floor plan of the Continental Room. Ramona and I charted out where the tables would be and numbered them, so tickets could be sold—for one hundred dollars each—according to who wanted to sit with whom. A few people thought the price was too high. When we thought about the expense of bringing all those people, about thirty in all—flying them, housing them, feeding them, other incidentals—one hundred dollars was certainly a lot less than a trip to Egypt. Never before or again would you see all those movie stars, Nagwa Fouad and Ahmed Adawiya, in one room and in the same show!
The idea for a tour started in 1985 when Kamel Sufian was selected as a judge for the Egyptian Film Festival. It was his dream to bring the top Egyptian stars to Hollywood to be honored. Last December he went to Egypt for the film festival and, while he was there, negotiated with the movie stars, Nagwa Fouad and the singer Walid Toufig. As the time drew near, even though he had been advertised, Walid Toufig couldn't make it, so Ahmed Adawiya was brought instead.
Samir and Ramona had no trouble selling the tickets. Tables filled up fast. More than a few people were turned away and some were unable to be served dinner but were allowed to stand by the walls. Before the dinner and program, a reception was given for the group. The Lawrence Olivier of Egypt, Farid Showki, received applause in appreciation for his film roles. He won the award as best actor for 1986. The popular Salah Zul Fakkar was also honored as a great actor. I overheard some gossip that he was married to the famous actress Shadia. Mr. Fakkar's brother was married to Faten Hammama, whom we all know as the ex-wife of Omar Sharif.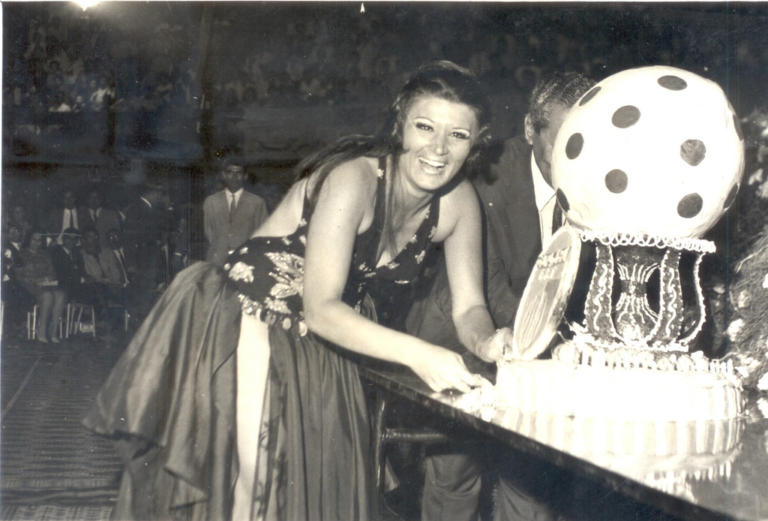 In all, nine of the top Egyptian movie stars attended: Nabila Ebeid, Sufia El Omrey, Nagwa Fouad, Farid Shawki, Abdel Aziz Mahmoud, Adel Adham, Ahmed Adawiya, Younis Shalaby, and Salah Zul Fakkar. The group was accompanied by a female reporter from the popular Egyptian newspaper Al Ahram. She took pictures of the group constantly for articles covering this tour. Also in the group were several Egyptian businessmen who were the power behind the movie and video distributors. One Saudi Arabian, I was told, was the biggest producer of movie-to-video transfers in the Middle East.
After the reception we all moved from the hallway into the Continental Room where we took our seats at assigned tables. The celebrities waited in the hallway and, after everyone was seated, they made their entrance as they were announced one by one. The audience was thrilled! The room was filled with electricity. As the stars were seated at a large banquet-like table in front of the stage, large crowds of people gathered around them taking pictures of them and talking to them. It was all very exciting, but orderly.
There was a short welcome speech by Dr. Samy Farag and a request for everyone to be seated so the show could start. Dinner was served as the Egyptian musicians took their places on stage. After a few lively musicals, Ahmed Adawiya came on stage and sang a few of his well-known songs including "Majnoun" and the fantastically popular "Salameta Om Hassan". He sang stanza after stanza, even with words that he was making up on the spot (as I'm told he is known to do, sometimes with slightly naughty double meanings) and at times got so carried away that he would put both arms in the air, close his eyes, snap his fingers and dance! Often, between stanzas, he would play an imaginary drum as he waited to begin singing again. The audience went crazy; they didn't want him to stop, but there was more to the show!
After a musical introduction, four girls entered in glitter baladi dresses. They did a short choreography after which Nagwa Fouad made her entrance hidden between them until she was stage front and visible to everyone.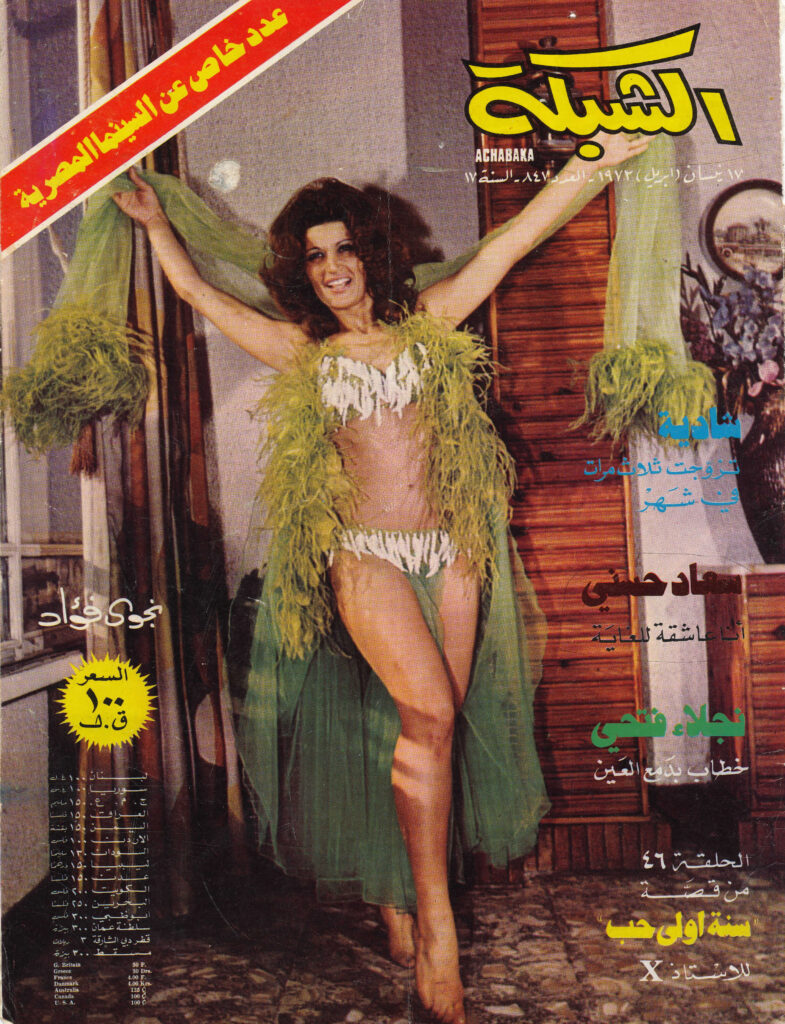 She was wearing a fitted red costume with attached body stocking accented with silver and red fringe. The skirt was cut like triangular pants caught at the ankles. Some of the red and silver fringe came down to her instep. It really moved! Everyone kept applauding as they performed, more as welcome greeting and also to show this great lady of dance the respect that she deserved. We heard that Nagwa Fouad is in her mid-fifties; she is in the most incredible shape!
The dance numbers consisted of choreographed combinations. One of my favorites was the second number (there were four in all) in which the chorus reappeared with finger cymbals and did a fast-paced dance with lots of hip work. For that, Ms. Fouad wore a silver and royal blue baladi dress. The colors were separated diagonally with the silver on top and the blue on the bottom from the hips on down. Next was the delightful "Ali Looz." Her live performance was so much better than the video performance of hers to the same music; when performed in front of an audience, the interaction between audience and performer is magical. Nagwa Fouad not only danced, she talked, sang, and was teasingly humorous. Before she performed "Ali Looz" she asked the males in the audience if they had relatives by the name of Ali. Half of them stood up. Everyone teased each other.
Ms. Fouad pretended to chew gum throughout "Ali Looz". Are there words to describe the ease and stamina of that inexplicable vertical shimmy for which Nagwa Fouad is known? We have seen it as part of her drum solo where she keeps it going as she locks one shoulder at a time before she twirls her hair in a frenzied finale. Well, in this live show she did a drum solo followed by an Oum Kalthoum musical during which she shimmied vertically for the entire thing! It looked effortless. When I came home and tried it in the mirror, I couldn't keep it going for one minute. And she made it look so easy!
For her finale Ms. Fouad and chorus did a lovely Saudi number in transparent over-dresses with baladi dresses underneath. She wore black, cut like an evening gown and very flattering. She had four costume changes, zig-zagging in and out between the chorus with a wardrobe lady waiting in the wings. What a show woman!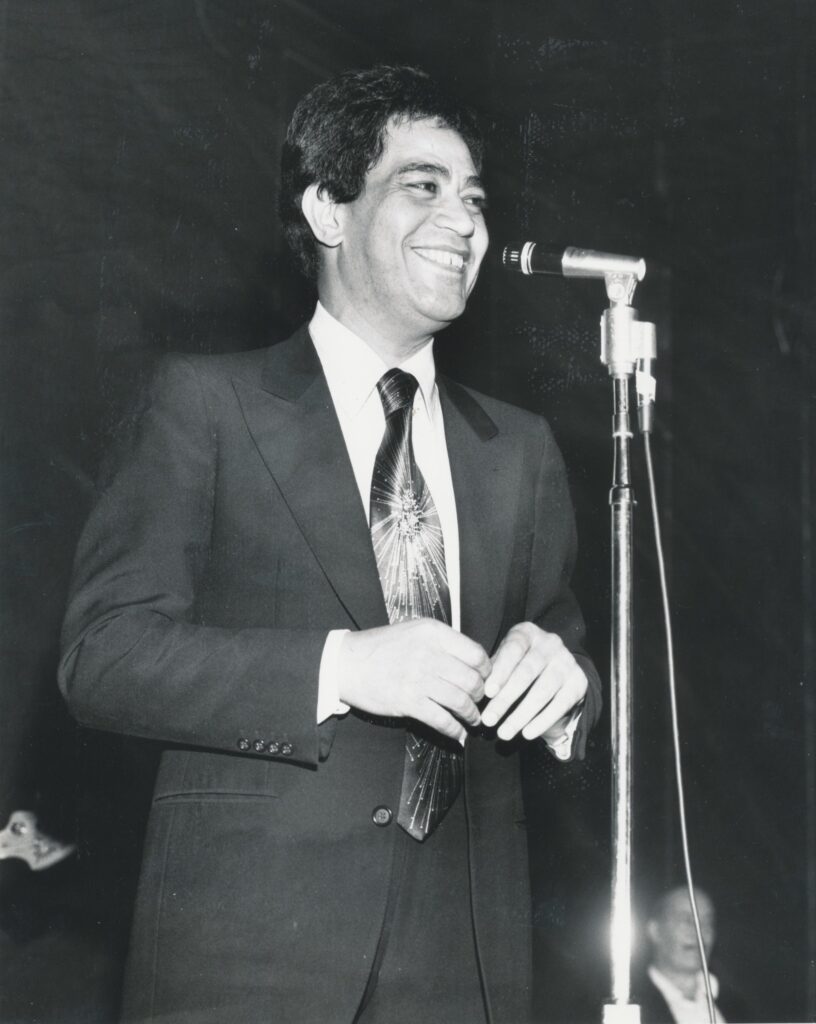 After her show was over the audience was almost wrung out. Then, another group came onstage, and a young man named Ali Al Hajjar started singing. The buzzing died down and people began to listen. I must say he had one of the most soulful and haunting voices I've heard in a long time. He was accompanied by four musicians led by Moody El Imam, another well-known musician who is not yet known here but has quite a following in the Middle East. I asked about them and was told they are famous; this was their first visit to the U.S.
As the music continued and the evening came to a close, all the stars came out into the audience and shook hands with as many people as they could. Everybody was hugging, taking pictures, smiling, smiling and smiling! I don't know when I've ever felt so much love in one room. There was no separation. These stars belonged to the people.
Photo Credits:
Egyptian belly dancer and actress Nagwa Fouad during Esperance Sportive de Tunis 60th anniversary celebration in 1979, Public Domain, https://commons.wikimedia.org/wiki/File:Najoua_Foued_Esperance.png.
Nagwa Fouad wearing a white and green costume on a magazine cover.
Ahmed Adawiya, well known Egyptian Sha'abi singer.
This article was published in Jamila's Article Book: Selections of Jamila Salimpour's Articles Published in Habibi Magazine, 1974-1988, published by Suhaila International in 2013. This Article Book excerpt is an edited version of what originally appeared in Habibi: Vol. 9, No. 6 (1986).