Habibi: Vol. 7, Nos. 10&11 (1983)
Suhaila Salimpour performs the Cabaret choreography for her instruction was filmed for video about when she started high school in the early 1980s.  This is one of two pieces for which Sohair Zaki's dancing provided a strong impact.  The base choreography was done by Sofia Clark, one of Jamila's students who went on to perform professionally in Egypt.  Suhaila rounded out the piece with Sofia's support and approval.
There are more and more videos appearing on the market with excerpts and full routines of Egyptian dancers. Some of the videos have clips of dancers from Egyptian movies in which the dancer is almost incidental. In other videos, which were filmed "live", the dancers were hired for weddings, birthday parties, or other parties celebrating important occasions. At these parties, the dancers performed long elaborate routines in which they displayed their expertise. One thing is certain, whereas before we had to depend on publicity and hearsay, now by collecting, studying and comparing performances and content, we can judge for ourselves which dancers we consider to be excellent, mediocre, or bad. Sometimes we have to see one performer several times before we can make a judgment. The content of a dance may vary, depending on the occasion. For instance, Sohair Zaki does not do a full dance in many of the film clips since her dance may not be a feature in the movie. In many cases she is shown as a dancer in a nightclub, inserted between movie dialogue. There is no chance for her to do a whole dance routine. But, by continuing to search out, collect and compare dance clips such as these, we can then begin to see what any dancer's full range of technique could be.
Sohair Zaki is one of the legends of Egypt. Last year she visited the United States with a large musical group and performed in Los Angeles. She was in excellent condition, and she never looked better. I have several of her performances on video which I have collected over the years and I would like to share some of my observations with you.
Sohair is noted for her sweet smile. She has had the same simple, natural hairstyle since she first appeared on the dance scene—long hair, parted in the middle, straight and full. Most of the time her costumes consist of the bra with a mesh midriff cover and a circle skirt, but she has been filmed in straight skirts also. Sohair has a large collection of baladi dresses which she uses in performances. Her preference of fabric for baladi dance seems to run in assuit but when she came to Los Angeles, she wore a baladi dress made of a clingy metallic fabric which was very effective.
One of my favorite performances of hers is on a video which was taped "live" in Saudi Arabia. She wears a form-fitting red assuit dress trimmed with large gold paillettes, slit up the sides just below the knees. Her girdle is made up of what looks like a collection of popular necklaces sewn onto the fabric. Her feet are bare save for a thin anklet on her right foot with little balls hanging from it.
Suhaila demonstrates the Baladi choreography that she taught in 1982.  This is one of a set of choregraphies in which the elegant body lines of Sohair Zaki served as a strong influence.
The opening is familiar. It is a song from a famous movie. Sohair walks on for the introduction and spins. Her right hip is pushed out to the side, right hand down framing the hip, left hand is up over the head. Her opening includes pelvic figure eights, followed by clockwise circles on her right hip, a movement which she punctuates many steps with, and also uses to accentuate appropriate musical passages.
The musicals are well chosen, drawing from popular favorites which the audience knows. They have a bouncy and solid tempo. As I watch her shimmy with controlled walks flat footed or on the balls of her feet, interspersed with counter-clockwise pivots, I realize why I was first drawn into this dance. The earthy "old style" is so basic and beautiful. It looks deceptively simple but it takes someone like Sohair to present the combination of controlled hipwork and that ever-wonderful "native" response to the passages of the music.
Sohair usually changes her movements at the end of a bar, sometimes repeating a step for as long as sixteen counts. In her "old style" presentation, the arms are classical with simple arm frames around the head. Interspersing shimmies with slow hip movements we associate with taqsim, Sohair brings her arms up, crosses her hands over each other, pulls them down in front and circles them out and again overhead, repeating this pattern several times during her slow movements. In one portion of the dance the orchestra goes into a drone, which is the cue for Sohair to do a full body vibration.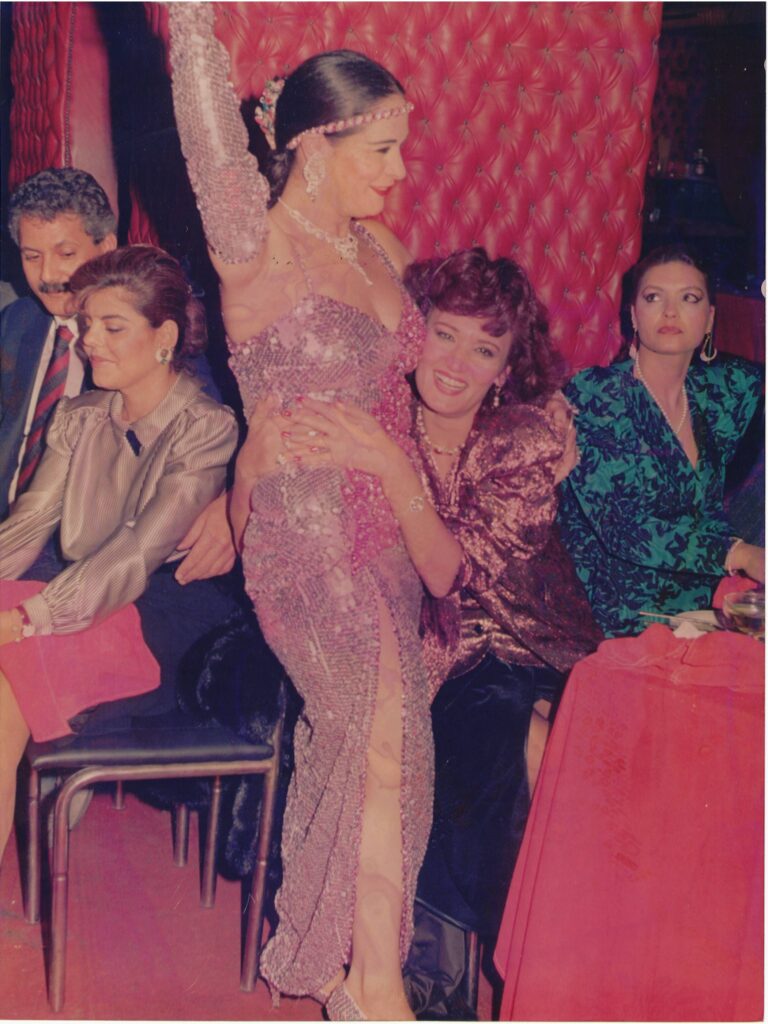 Sohair accentuates the music with three-quarter shimmies on the up, and at times, on the down. When she does a counter-clockwise pivot she uses her right hip and sometimes ends in a deep arch. She almost always "halftimes" Arabic 1, combining it with a Turkish Walk undulation. Her Basic Egyptian is soooo Egyptian. It's the way she gets the right body accent with the right musical syllable.
At a given moment she will put out her hand and the drummer is ready to hand her a set of finger cymbals. She puts these on, still dancing, and plays the pattern RLRR-LL-R-RLR, and repeats it for her cymbal portion. This only lasts a minute or so before she takes them off and is handed a cane. A few twirls, nothing elaborate, and that prop is discarded between the musicians. She claps her hands together as a sign for the musicians to accelerate and she repeats her walking shimmies, going into a spin for her finale. She bows, blows kisses to the audience left, right, and a big one in the middle, all the way out to the back. The audience cheers, whistles, zaghareets, and applauds. She points to an imaginary watch on her wrist as if to say, "Is there time for me to do an encore?" The audience continues to whistle and cheer. Sohair signals the musicians and they begin to play another well known favorite. It is a short encore, repeating the movements of the first dance. She winds it up and bows. Again, whistles, cheers, applause. She bows to the musicians, acknowledging them on the right and left, and she leaves the stage and the curtain closes. Her dancing was simple, beautiful, and improvised.
In another performance, the orchestra plays her introduction. When Sohair Zaki appears, she makes her way through the nightclub audience and helps herself onto the stage by placing her hand on the accordion player's shoulder. She is carrying a veil over her arm, and as she circles around the stage, Ms. Zaki scans the audience as though she is looking for familiar faces. As she manipulates her veil to find the edges, she greets people, smiles at everyone, and throws kisses into the audience by gathering her fingertips to her lips and throwing the kiss out to them as though it were a ball. She will greet one person in Arabic and another in English, forming the words carefully, emphatically, and dramatically saying, "I love you".
She is wearing a rhinestone-studded bra with mesh midriff cover and a rhinestone-studded belt connected to the skirt. The skirt is slit up the right leg to her knee and is bordered by a small, gathered ruffle. The rhinestones are colored rust, silver, and gold and are sewn in zigzag patterns. Loops of rust-colored bugle beads cascade from the girdle halfway down her thighs.
As she dances we immediately recognize her pelvic down-locks so individual to her style. Her body-locks accent breaks in the music, while her hands are always graceful and moving, framing her body in so many of the old gestures. Sometimes her right index finger is over her right eyebrow with palms facing out. Her left hand curves over her left hip. When her arms are up the hands sometimes keep tempo, which looks like "shaking water off the hands". Even when the arms come down they are poised and curve her body. Her hands and fingers are always graceful.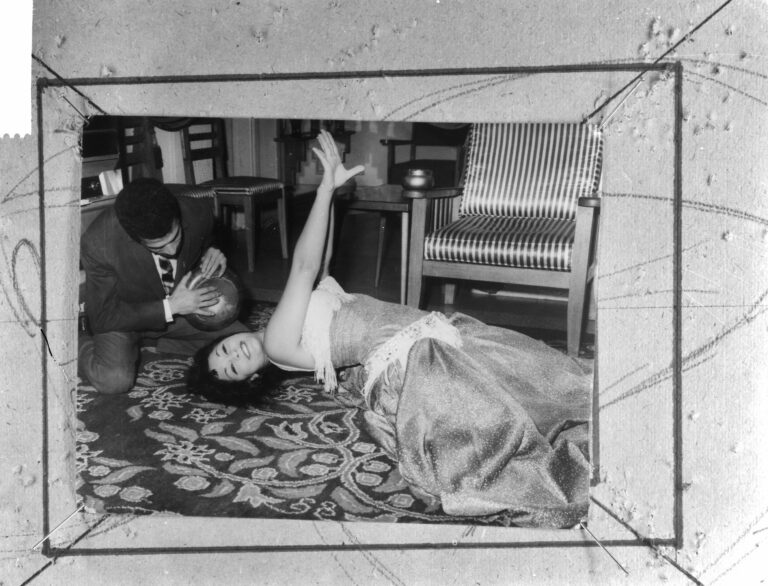 When the music lapses into a drone, Sohair stands still, vibrating her pelvis horizontally. Her circle steps emphasize a slow section. Sometimes she will stop in the middle of a circle, causing the music to stop and the audience to call enthusiastically for her to complete the movement. The music progresses to a brief baladi section and the tambourine player gets finger cymbals ready for Ms. Zaki who, without looking back, simply extends her hand for him to place them on. She removes the cymbals, and without looking, hands them back to the tambourine player, who is ready and watching her every cue.
Certainly one of the highlights of her dance is the drum solo. Effortlessly, Ms. Zaki emphasizes the drum beats with postured hip and body locks, full body vibrations, and isolated shimmies. Always in control and always a lady, she proves to the audience her musical, interpretive dancing skill.
Every so often we see wads of money thrown on stage. A few customers climb on stage, hold a cluster of bills over her head, and let them fall down all around her. Another man removes a gold necklace from himself and secures it around her neck. She has endeared herself to everyone.
Her finale is a series of fast shimmies in a circle on the outer edge of the stage. She spins, stops, bends her head forward making her hair fall forward, snaps her head back and lifts her right arm up to signal the orchestra for the final beat.
The orchestra plays a short medley. Sohair returns in a beautiful baladi dress and performs a short cane dance. Acknowledging Saudi patrons in the audience, the orchestra plays a couple of sure-to-please "sing alongs" as Sohair swings her hair from side to side Saudi-style. The orchestra plays a sentimental song as Ms. Zaki touches her heart and offers it to the audience. Again the orchestra winds up but, even after the signal to stop, the audience compels Sohair to dance a bit longer before taking her leave.
This age of video is invaluable. You can watch a dance, rewind it and watch it again. If a picture is worth a thousand words, a video is priceless. The "mystery" behind a subtle technique unravels as our focus of observation changes from watching the face, to the body line, and finally to the placement of the feet. This is definitely the age of growth. One thing is certain. You may watch a video of Sohair Zaki but if you've seen one, you haven't seen it all.
This article was published in Jamila's Article Book:  Selections of Jamila Salimpour's Articles Published in Habibi Magazine, 1974-1988, published by Suhaila International in 2013. This Article Book excerpt is an edited version of what originally appeared in Habibi: Vol. 7, Nos. 10&11 (1983).