Habibi: Vol. 3, No. 5 (1976)
I look around me at the seasoned dancers who wear the all-coin girdle [belt] and bra, and the novice, who is striving for, but hasn't yet achieved, her collection of coins which will complete her professional "ethnic" Middle Eastern costume. I wonder if they are aware of the many talents that have gone into the finished product, a "look" which has become a pattern for so many dancers and is taken for granted as a classic costume style.
While I had seen costumes with a few coins here and there, I never in my career saw an all-coin girdle and bra until Bob Mackie¹ (whose wife was a student of mine) designed and created the first "fish scale" look, all-coin girdle and bra. It seems like yesterday that I first met Bob Mackie, a young boy who was destined to become one of the leading designers in the world today. This is how we met.
The year was 1957 or 1958. Danny Reserva (who gave me the "Danse Du Sabre" print) was a rendering teacher at Choinard's School of Designing in Los Angeles, and from time to time I posed in Middle Eastern costumes for his class where Bob Mackie was a student. The Fez had newly opened on Sunset and Vermont. The Greek Village was flourishing with a new dancer, Helena Kallianiotes, who just arrived from the club Zara in Boston. Local dancers were replaced by out-of-town imports.
The first time I saw Helena Kallianiotes I was totally unprepared for what I saw. The mood she created was hypnotic, her appearance was exotic and wild and unpredictable as she held the audience spellbound.  Her speed was to me impossible and her technique flawless. She wore a red costume which consisted of a chiffon skirt and veil, red velvet girdle, and bra…but, lo! there were coins on her girdle and bra placed in such a way as I had never seen before. The coins were stitched loosely in checkerboard design (a coin sewn into the area where the imaginary lines crossed) on the girdle and bra, loose enough that when she shimmied, they shook…and did they shake! She also sewed coins on the raw edge of her veil; when she did her veil work, they tinkled. I was impressed! What a good idea! I had never seen any other dancers in such a costume. In the beginning of my clumsy attempts at costume research and designing, we draped and tucked and maybe bordered things with coins…but to think of coins dominating the surface of the costume: ingenious! And so Helena Kallianiotes was the first dancer I ever saw in person who wore coins. Dancers have been imitating her unknowingly ever since. Hers was not the "fish scale" pattern used by Bob Mackie but, instead, coins were strategically placed in crisscross pattern.
¹
Fashion designer known for costuming Liza Minelli, Cher, Judy Garland, Tina Turner, the Barbie doll, and many others.
Back to Bob Mackie. He related to me that his young wife just had a baby and had gained a tremendous amount of weight during her pregnancy. He laughingly but seriously suggests that if I could teach her to dance she might lose some weight. So, teach her to dance I did…and she was a "natural". I simply demonstrated, and she followed along as though she'd been born to do it. Her sense of rhythm was unusual, her ear for music was quick. She caught on to Middle Eastern patterns and subtleties and brought her own magic to the dance. Bob was so inspired that he designed a line of costumes for her and, behold, the all-coin "fishscale" girdle and bra was born. He created a look for her that was ancient, classic and for the eternal female. She lost weight, got a dancing job at the Greek Village, and set the pace for the new "old" look in costumes. My reward was three costumes by Bob Mackie and a poster of me drawn by him that I carried with me from club to club wherever I worked; the poster was in the window of the Bagdad Cabaret in San Francisco for four years.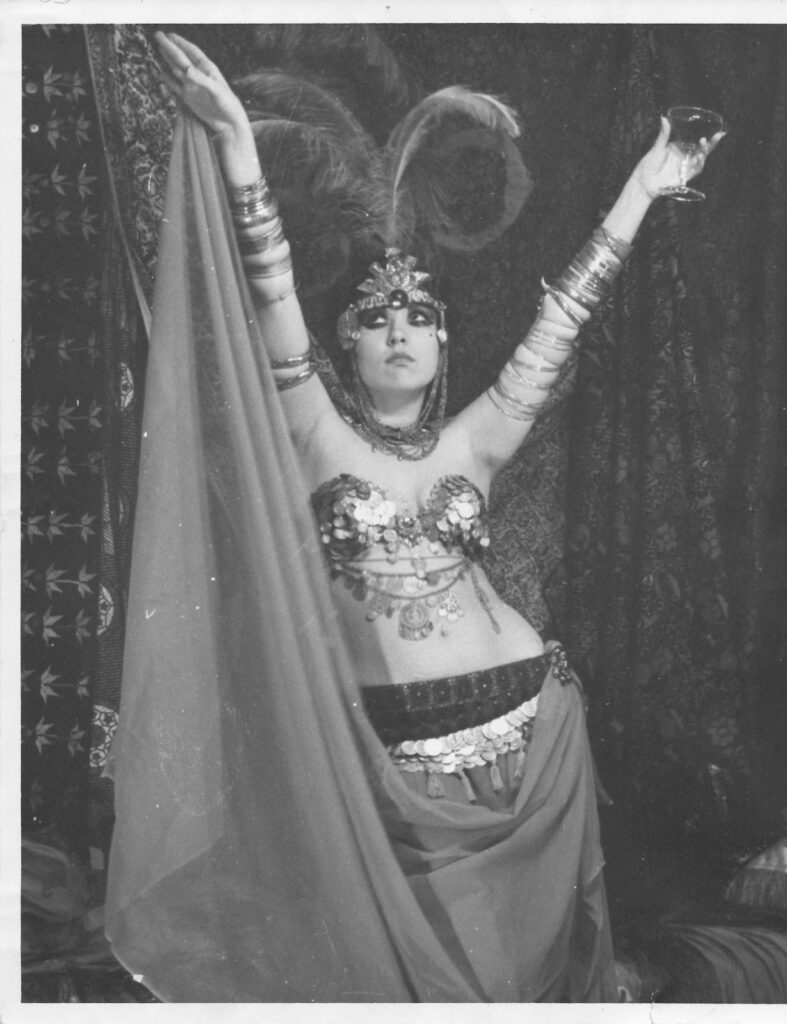 We know that Middle Eastern people did not have banks in days past, and that even today in many rural areas they still wear their wealth on their bodies in the form of coins and jewelry. Dancers displayed their popularity in coins worn in large amounts on the forehead, temples, ear to ear, chest, waist, hips, and ankles. As countries become modernized and Europeanized, the custom of "family wealth" displays on persons, mainly the female, became less a custom and more a holiday habit. The custom is fast disappearing but still to be found.
Sharp merchants from Europe and the West are luring heirlooms away from tribesmen; from time to time, we find gems of weaving, embroidery and talismanic trinkets in shops at once full of tribal merchandise and in a year "sold out" and concentrating on other countries where tribes still exist and heirloom crafts are to be gotten for a song. There are fast becoming fewer and fewer of those countries whose indigenous treasures are in the countries of their origin. Most of them are to be found in Europe or the United States.
Bob Mackie revived and recreated the coin look we all love and wear.  He has been an inspiration to us all. There may be those of you who are not familiar with his name. Bob Mackie is the designer for all the costumes that are so beautifully worn by Cher on the Sonny and Cher Comedy Hour Show. The next time you see her looking like an Egyptian princess, you'll know why.
Photo Credits:
Jamila Salimpour adjusting a coin costume.
Marianne Mackie, Bob Mackie's wife, who was a student of Jamila's, featuring a beautiful coin costume by her husband in a themed photo shoot.  She became a professional belly dancer before ultimately pursuing a singing career under the name, Lulu Porter.
Galya, one of the original Bal Anat finale dancers, in a coin costume.
This article was published in Jamila's Article Book: Selections of Jamila Salimpour's Articles Published in Habibi Magazine, 1974-1988, published by Suhaila International in 2013. This Article Book excerpt is an edited version of what originally appeared in Habibi: Vol. 3, No. 5 (1976).